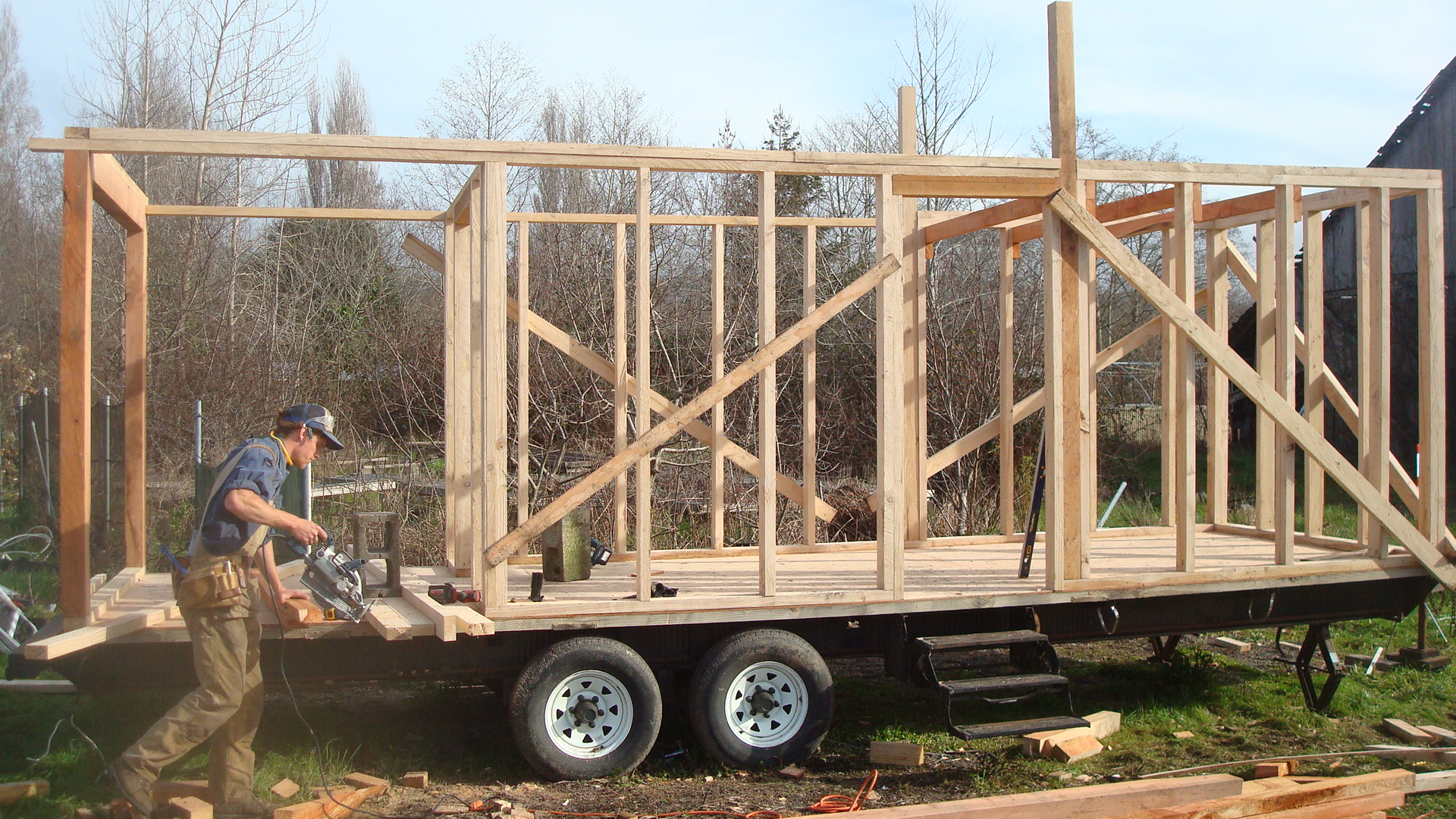 Tiny House Building #1 (Jolene)
In the fall of 2015, Tyler completed his first small house on wheels project. He started the project with Max Hewes, a good friend. The house was originally planned to be a personal residence for Tyler to park on the farm. However, the project soon turned into a custom build for a local community member. Jolene, the small house on wheels, was constructed on an old 5th wheel trailer. They were able to scrap the trailer for parts, appliances, windows, and steel trailer frame. They used salvaged trailer parts and restored old growth lumber and mill rejects to create a modern, rustic design. This project was a collaboration of Laughing Mother Farm and the Cascadian Community Builders Collective (CCBC) which is a group of young, talented builders from the Pacific Northwest. For more information about our collective or to view other projects check out the website hayseedhomes.com.
Custom Cafe Garden Beds
In the spring of 2015, Tyler had the pleasure of working with the ladies at Cafe Phoenix to construct custom garden beds for the opening of their new farm to table restaurant in Arcata, CA. He used reclaimed old-growth redwood and joinery to create a custom, modern-rustic design for this new and upcoming restaurant. Tyler is passionate about incorporating reclaimed and salvaged elements to create a rustic and modern design.
Goose Barn Conversion
After moving to Murphys, CA, Tyler began to convert an old goose barn into his current residence. The goose barn was built ten years prior and had seen significant damage from the elements. Tyler salvaged a portion of the structure and used reclaimed items such as salvaged windows, corrugated steel roofing, reclaimed wood and siding from the property. He enjoyed experimenting with new design elements like concrete counter tops and also with natural building techniques including earthen plasters on the interior walls and light clay-straw insulation.
Custom Redwood Deck
Tyler built this unique redwood deck to cover an existing storage shed and to give his client some much needed lounge space at a rustic cabin in the woods of Arnold, CA.
Mobile Chicken and Rabbit Coops
During the winter of 2017, Tyler traveled to Peru to do construction work on several different farms. He designed and built three mobile and stationary chicken/rabbit coops out of new and salvaged building materials. The coops are designed to be easy to move around with one or two people. A mobile coop allows farmers to supplement feed by allowing grazing on fresh insects and grass, reduce risk for pathogen and bacteria build up from stationary animal housing, and maintain desired vegetation levels.